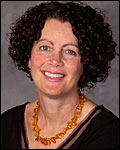 Eileen Marrinan, MS, MPH
Director, Central New York Cleft and Craniofacial Center
Upstate Medical University
Syracuse, NY
Superb health care providers typically excel academically or clinically. Dr. Linda D'Antonio is one of the very few who shines in both domains. She has long been recognized as a world leader in speech impairments related to cleft palate and other craniofacial disorders. The respect and admiration of her colleagues around the world and any family lucky enough to have encountered her are well deserved. Dr. D'Antonio has forged new ground in widening the base of knowledge in understanding the nature of specific problems, which has resulted in improved treatment approaches.
I have had the privilege of knowing Linda D'Antonio for  many years. She has had a focused commitment on improving the lives of children with cleft and craniofacial disorders. Her rise to excellence has been cultivated by her keen analytical mind that allows her to see each child as a unique learning opportunity. Through her published research, we have all benefited from her insights. A family in her care is truly fortunate. Linda's level of intellect, experience and compassion are unparalleled.